Relationship to Sidecar and Sidecar Overview
The Ambassador pattern is a special case of the sidecar pattern. As such, it maintains most of the description, many of the benefits – and the drawbacks – of the Sidecar Pattern.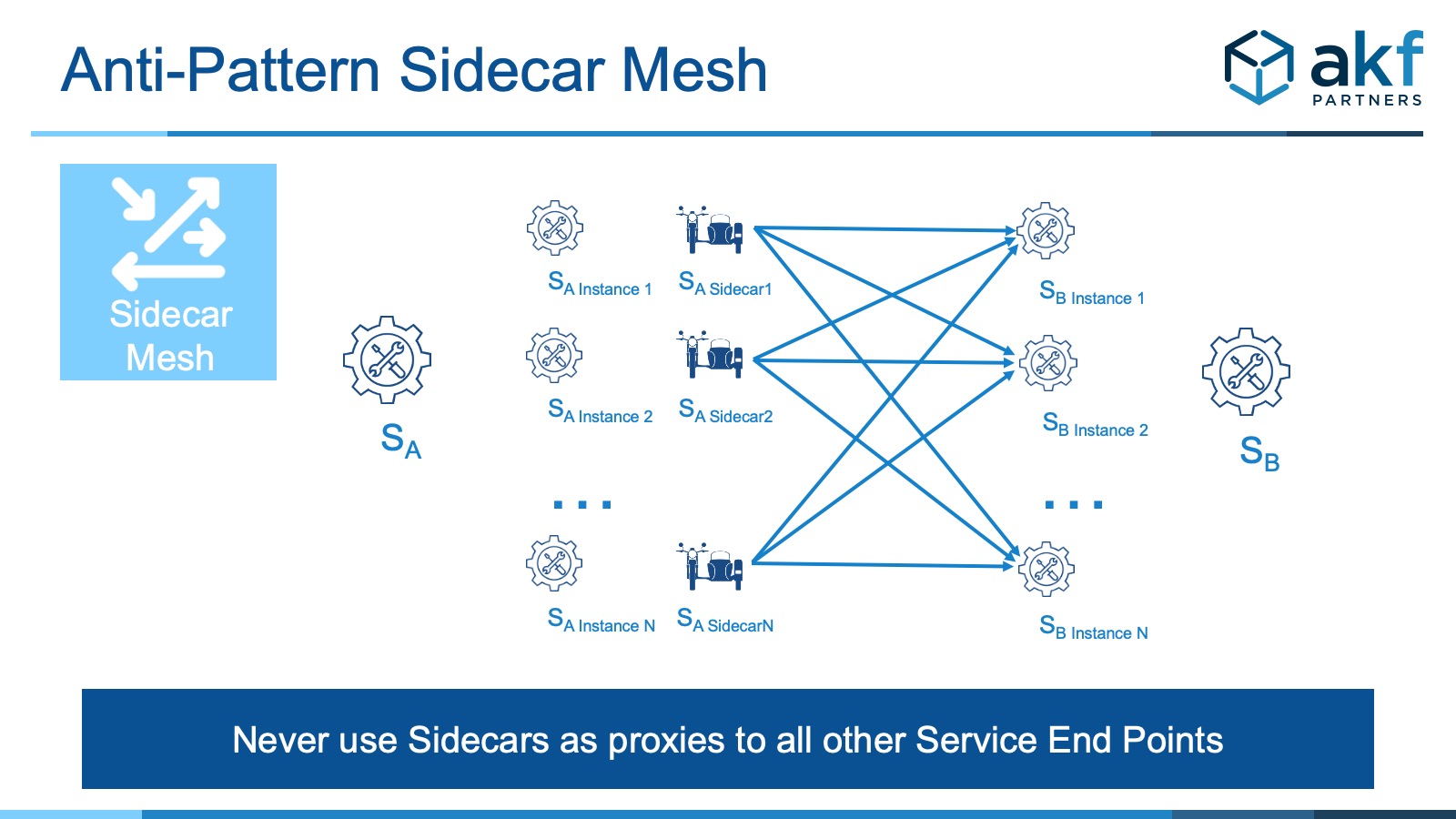 Sidecar (or sidekick) is useful for commonly used functional components that can be easily shared across services. These components, such as logging, metering, alerting, mark-down functionality, etc. are separately deployable (e.g. wrapped in separate containers) from the service that uses them but sit "alongside" the calling service for the purpose of minimizing shared service deployments. The easiest way to think of Sidecar is to think of it as a "daemonized" library deployed alongside any instance of a service (or within the same Kubernetes pod) that calls it.
Ambassador Pattern Overview
We use the term Ambassador (or call something an Ambassador service) when a Sidecar deployment proxies communication from one application ("Application A") from/to a requesting/receiving process. When faced with the "Y2K" conversion crisis, many companies "wrapped" their existing solutions with other applications – applications that proxied inbound and outbound communication for the purposes of converting dates moving in and out of the legacy product.
Think of an Ambassador deployment as an alternative to this "wrapping" or modification of the call interfaces of an existing legacy component. The Ambassador takes traditional requests and translates them into appropriate requests for the legacy or existing solution. Ambassador also translates communication initiated from the legacy component and translates it into the appropriate communication for the remainder of the service fabric.
Because it is always implemented as a proxy (similar to the Strangler Pattern), Ambassador violates the AKF multiplicative effect of failure anti-pattern (services in depth – or long chains of services). That said, it still has huge opportunity to participate in a microservices architecture, especially when used to maintain the usefulness or extend the lifespan of older applications implemented as a service (legacy applications). Using an Ambassador service is often a wise approach to lower development costs of for legacy solutions that carry a low "modernization" financial return on investment.
Benefits of Ambassador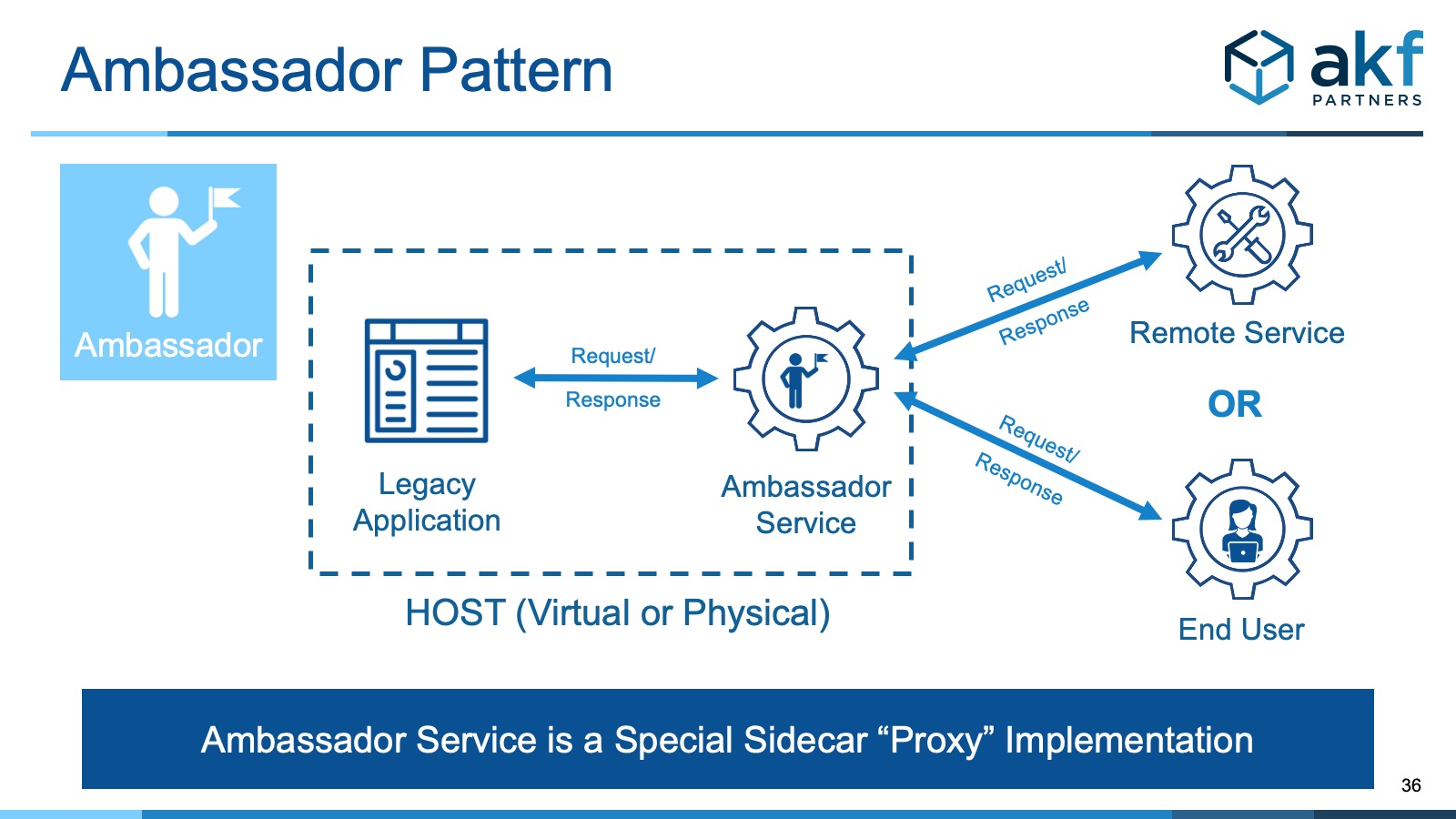 Ambassador comes with many benefits. Many are shared with Sidecar, but some are unique to the proxying nature of an Ambassador. Shared indicates benefits Ambassador shares with Sidecar, while unique indicates a benefit only Ambassador has:
Drawbacks to Ambassador
When to Use Ambassador
We often tell our clients that virtually no architectural modernization initiative should result in 100% of your software being updated. In fact, we often use the Pareto principal, or 80/20 rule, to determine what should be modernized (if anything at all). "What 20% of your solution represents 80% of the value and therefore the potential return on modernization?"
Ambassador is then a good way to address the otherwise financially dilutive efforts of a modernization – that potential 80% of your code that is infrequently updated, infrequently called but still of some value, or that creates the least value for your customers.
In addition to the modernization of the call interface to include legacy solutions into a modern services fabric, Ambassador gives teams the opportunity to enhance the capabilities of multiple applications with the low cost addition of a single codebase. The types of capabilities you want within the Ambassador service includes all of the capability that you can put in a single codebase but replicate across a legion of legacy solutions. These include but are not limited to capabilities like:
When to Avoid Ambassador
Within our Sidecar article, we admonish the reader to: "Never use a sidecar pattern for synchronous activities that must complete prior to generating a user response. Doing so will add some delay to end user response times."
Recall that the Ambassador is a special instance of Sidecar, and its whole purpose is to create a proxy. The only reason to do so is to leverage existing implementations that have value, but whose return on investment for updating is low relative to the return. The "return" here is the value the effort brings relative to the cost of the effort.
Cases in which one should avoid Ambassador include the following:
AKF Partners has helped hundreds of companies move from monolithic solutions to services and microservice architectures.
Give us a call
, we can help you with your transition.