We can tell a lot about a company within the first hour or so of any discussion. Consider the following statement fragments:
"We have a lot of smart people here…"
Or
"We have some of the hardest working engineers…"
Contrast these with the following statement fragments:
"We measure ourselves against very specific business KPIs…"
Or
"We win or lose daily based on how effectively we meet our customer expectations…"
There is a meaningful difference in the impact these two groups of statements have on a company's culture and how that culture enables or stands in the way of success. The first group of statements are associated with independent variables (inputs) that will rarely in isolation result in desired outcomes (dependent variables). When used in daily discourse, they reinforce the notion that something other than outcomes are the things upon which a company prides itself. Our experience is that these statements create an environment of hubris that often runs perpendicular to, and at best in no way reinforces, the achievement of results. Put another way, when we hear statements like this, we expect to find many operational problems.
The second group of statements are focused on meaningful and measurable outcomes. The companies with which we've worked that frequently communicate with these statements are among the most successful we've seen. Even when these companies struggle, their effort and focus is solidly behind the things that matter – those things that create value for the broadest swath of stakeholders possible.
The point here is that how we focus communication inside our companies has an important impact on the outcomes we achieve.
---
Outcomes First
Success is often a result of several independent variables aligning to achieve a desired outcome. These may include, as Jim Collins points out, being in the right place at the right time – sometimes called "luck". Further, there is rarely a single guaranteed path to success; multiple paths may result in varying levels of the desired outcome. Great companies and great leaders realize this, and rather than focusing a culture on independent variables they focus teams on outcomes. By focusing on outcomes, leaders are free to attempt multiple approaches and to tweak a variety of independent variables to find the most expedient path to success. We created the AKF Equation (we sometimes refer to it as the AKF Law) to help focus our clients on outcomes first: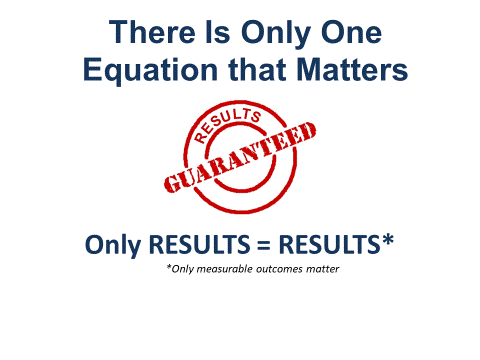 Two very important corollaries follow from this equation or "law":
And…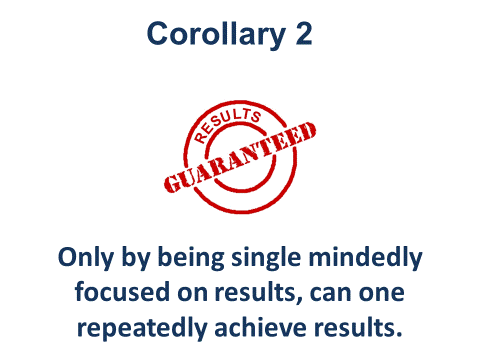 ---
Examples of Why Results, and Not Paths Matter
Intelligence Does Not Equal Success
As an example of why the dependent variable of results and not an independent variable like intelligence is most important consider Duckworth and Seligman's research. Duckworth and Seligman and associates (insert link) conducted a review of GPA performance in adolescents. They expected to find that intelligence was the best indication of GPA. Instead, they found that self-discipline was a better indication of the best GPAs: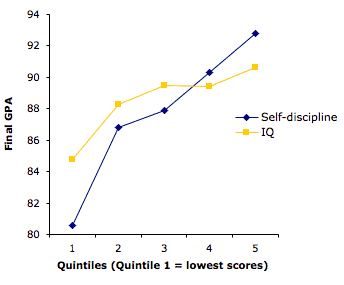 Lewis Terman, a mid-20th century Stanford Pyschology professor hypothesized that IQ was highly correlated with success in his famous termite study of 1500 students with an average IQ of 151. Follow on analysis and study indicated that while these students were successful, they were half as successful as a group of other students with a lower IQ.
Chris Langan, the world's self-proclaimed "most intelligent man" with an IQ of 195 can't seem to keep a job according to Malcolm Gladwell. He's been a cowboy, a stripper, a day laborer and has competed on various game shows.
While we'd all like to have folks of average or better intelligence on our team, the above clearly indicates that it's more important to focus on outcomes than an independent variable like intelligence.
Drive Does Not Equal Success
While most successful companies in the Silicon Valley started with employees that worked around the clock, The Valley is also littered with the corpses of companies that worked their employees to the bone. Just ask former employees of the failed social networking company Friendster. Hard work alone does not guarantee success. In fact, most "overnight" success appears to take about 10,000 hours of practice just to be good, and 10 years of serious work to be truly successful (according to both Ramit Sethi and Malcolm Gladwell.)
Hard work, if applied in the right direction and to the right activities should of course help achieve results and success. But again, it's the outcome (results and success) that matter.
Wisdom Does Not Equal Success
Touting the age and experience of your management team? Think again. There's plenty of evidence that when it comes to innovative new approaches, we start to "lose our touch" at the age of 40. The largest market cap technology companies of our age were founded by "youngsters" – Bezos being the oldest of them at the age of 30. Einstein posited all of his most significant theories well before the age of 40 – most of them in the "miracle year" at the age of 26 in 1905. The eldest of the two Wright Brothers was 39.
While there are no doubt examples of successful innovation coming after the age of 40, and while some of the best managers and leaders we know are over the age of 40, wisdom alone is not a guarantee for success.
---
Only Success = Success
Most of the truly successful and fastest growing companies we know focus on a handful of dependent variables that clearly identify results, progress and ultimately success. Their daily manners and daily discourse are carefully formulated around evaluation of these success criteria. Even these company's interaction with outside firms focuses on data driven indications of success time and time again – not on independent variables such as intelligence, work ethic, wisdom (or managerial experience), etc.
These companies identify key performance indicators for everything that they do, believing that anything worth doing should have a measurable value creation performance indicator associated with it. They maniacally focus on the trends of these performance indicators, identifying significant deviations (positive or negative) in order to learn and repeat the positive causes and avoid those that result in negative trends. Very often these companies employ agile planning and focus processes similar to the OKR process.
The most successful companies rarely engage in discussions around spurious relationships such as intelligence to business success, management experience to business success, or effort to business success. They recognize that while some of these things are likely valuable in the right proportions, they are rarely (read never) the primary cause of success.
---
AKF Partners helps companies develop highly available, scalable, cost effective and fast time-to-market products. We know that to be successful in these endeavors, companies must have the right people, in the right roles, with the right behaviors - all supported by the right culture.
Contact us to discuss how we can help with your product needs.