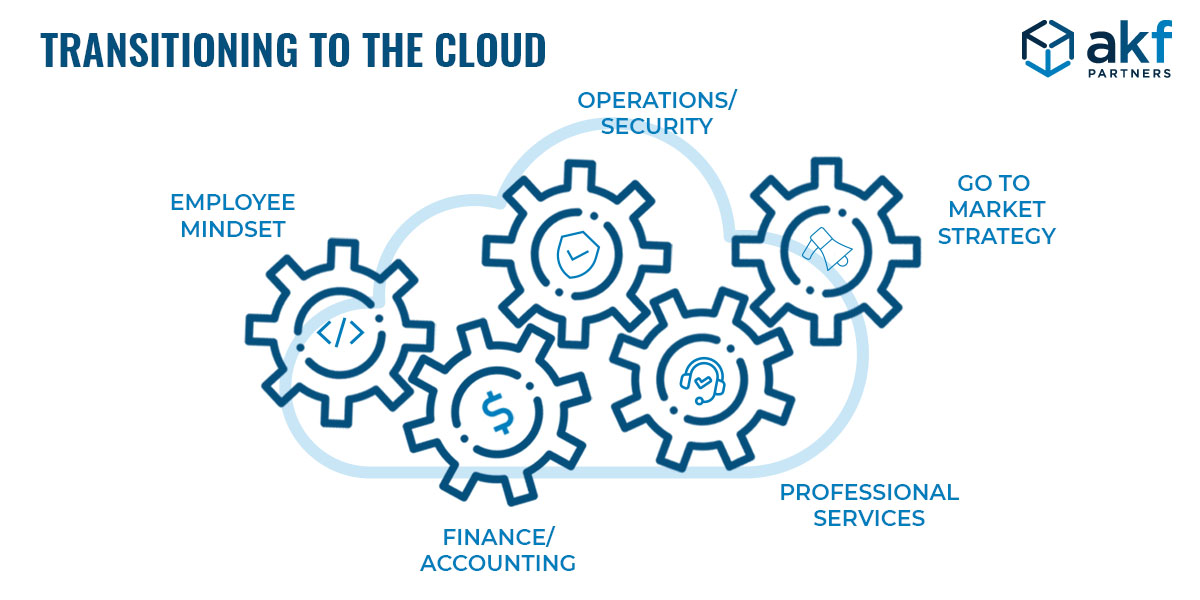 Transforming a traditional on-premises product and company to a SaaS model is currently in vogue and has many broad-reaching benefits for both producers and consumers of services. These benefits span financial, supportability, and consumption simplification.
In order to achieve the SaaS benefits, your company must address the broad changes necessitated by SaaS and not just the product delivery and technology changes. You must consider the impact on employees, delivery, operations/security, professional services, go to market, and financial impacts.
Employee Transformation
The employee base is one key element of change – moving from a traditional 'boxed' software vendor to an 'as a Service' company changes not only the skill set but also the dynamics of the engagement with your customers. Traditionally staff has been accustomed to having an arms-length approach for the majority of customer interactions. This traditional process has consisted of a factory that's building the software, bundling, and a small group (if any) who 'touch' the customer. As you move 'to as a service' based product, the onus on ensuring the solution is available 24x7 is on everyone within your SaaS company. Not only do you require the skillsets to ensure infrastructure and reliability – but also the support model can and should change.
Now that you are building SaaS solutions and deploy them into environments you control, the operations are much 'closer' to the engineers who are deploying builds. Version upgrades happen faster, defects will surface more rapidly, and engineers can build in monitoring to detect issues before or as your customers encounter them. Fixes can be provided much faster than in the past and strict separation of support and engineering organizations are no longer warranted. Escalations across organizations and separate repro steps can be collapsed. There is a significant cultural shift for your staff that has to be managed properly. It will not be natural for legacy staff to adopt a 24x7 mindset and newly minted SaaS engineers likely don't have the industry or technology experience needed. Finding a balance of shifting culture, training, and new 'blood' into the organization is the best course of action.
Passion For Service Delivery
Having Services available 24x7 requires a real passion for service delivery as teams no longer have to wait for escalations from customers, now engineers control the product and operating environment. This means they can see availability and performance in real time. Staff should be proactive about identifying issues or abnormalities in the service. In order to do this the health and performance of what they built needs to be at the forefront of their everyday activities. This mindset is very different than the traditional on-premises software delivery model.
Security Implications
Shifting the operations from your customer environments to your own environments also has a security aspect. Operating the SaaS environment for customers shifts the liability from them to you. The security responsibilities expand to include protecting your customer data, hardening the environments, having a practiced plan of incident remediation, and rapid response to identified vulnerabilities in the environment or application.
Finance & Accounting
Finance and accounting are also impacted by this shift to SaaS - both on the spend/capitalization strategy as well as cost recovery models. The operational and security components are a large cost consideration which has been shifted from your customers to your organization and needs to be modeling into SaaS financials. Pricing and licensing shifts are also very common. Moving to a utility or consumption model is fairly mainstream but is generally new for the traditional product company and its customers. Traditional billing models with annual invoices might not fit with the new approach and systems + processes will need to be enhanced to handle. If you move to a utility-based model both the product and accounting teams need to partner on a solution to ensure you get paid appropriately by your customers.
Customer Service
Think through the impacts on your customer support team. Given the speed at which new releases and fixes become available the support team will need a new model to ensure they remain up to date as these delivery timeframes will be much more rapid than in the past and they must stay ahead of your customer base.
Your go to market strategies will most likely also need to be altered depending on the market and industry. To your benefit, as a SaaS company, you now have access to customer behavior and can utilize this data in order to approach opportunities within the customer base. Regarding migration, you'll need a plan which ensures you are the best option amongst your competitors.
Most times at AKF we see companies who have only focused on product and technology changes when moving to SaaS but if the whole company doesn't move in lockstep then progress will be limited. You are only as strong as your weakest link.
We've helped companies of all sizes transition their technology – AND organization – from on-premises to the cloud through SaaS conversion. Give us a call – we can help!