We hear every day that more and more jobs are disappearing, yet the technology job sector cannot keep up with the unprecedented demand. So why are women falling behind in this growing career track?
When we look at the percentage of STEM bachelor's degrees awarded to female students for the last two decades, based on NSF statistics, we find there are no gender difference in the bio sciences, the social sciences, or mathematics, and not much of a difference in the physical sciences. Great news for women scientists. The only STEM fields in which men genuinely outnumber women are computer science and engineering. What? Why the stagnant numbers in computer science?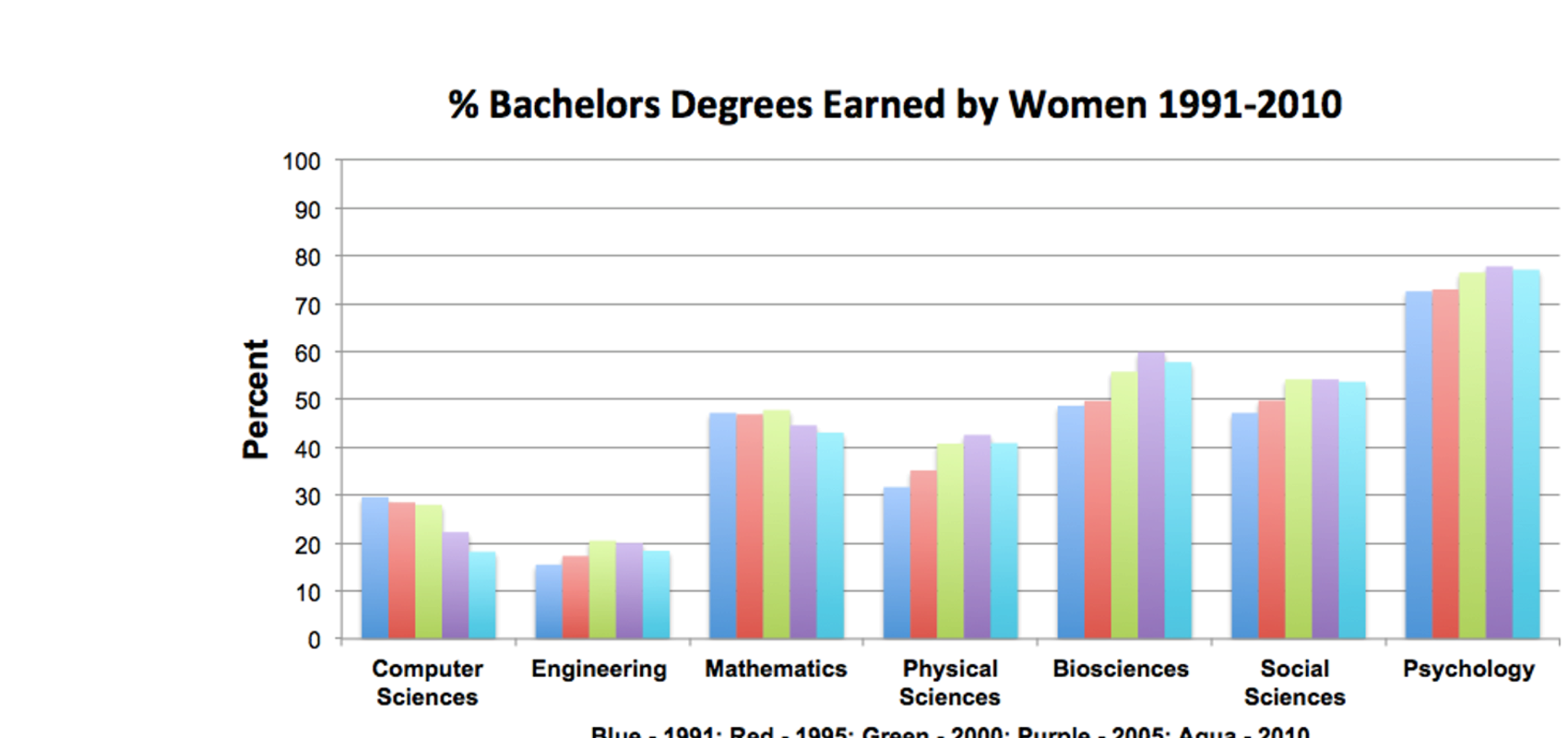 At the PhD. level, women have clearly achieved equity in the bio sciences and social sciences, are nearly there (40 percent) in mathematics and the physical sciences, and are "over-represented" in psychology (78 percent). More good news. Again, the only fields in which men greatly outnumber women are computer science and engineering. Why no growth?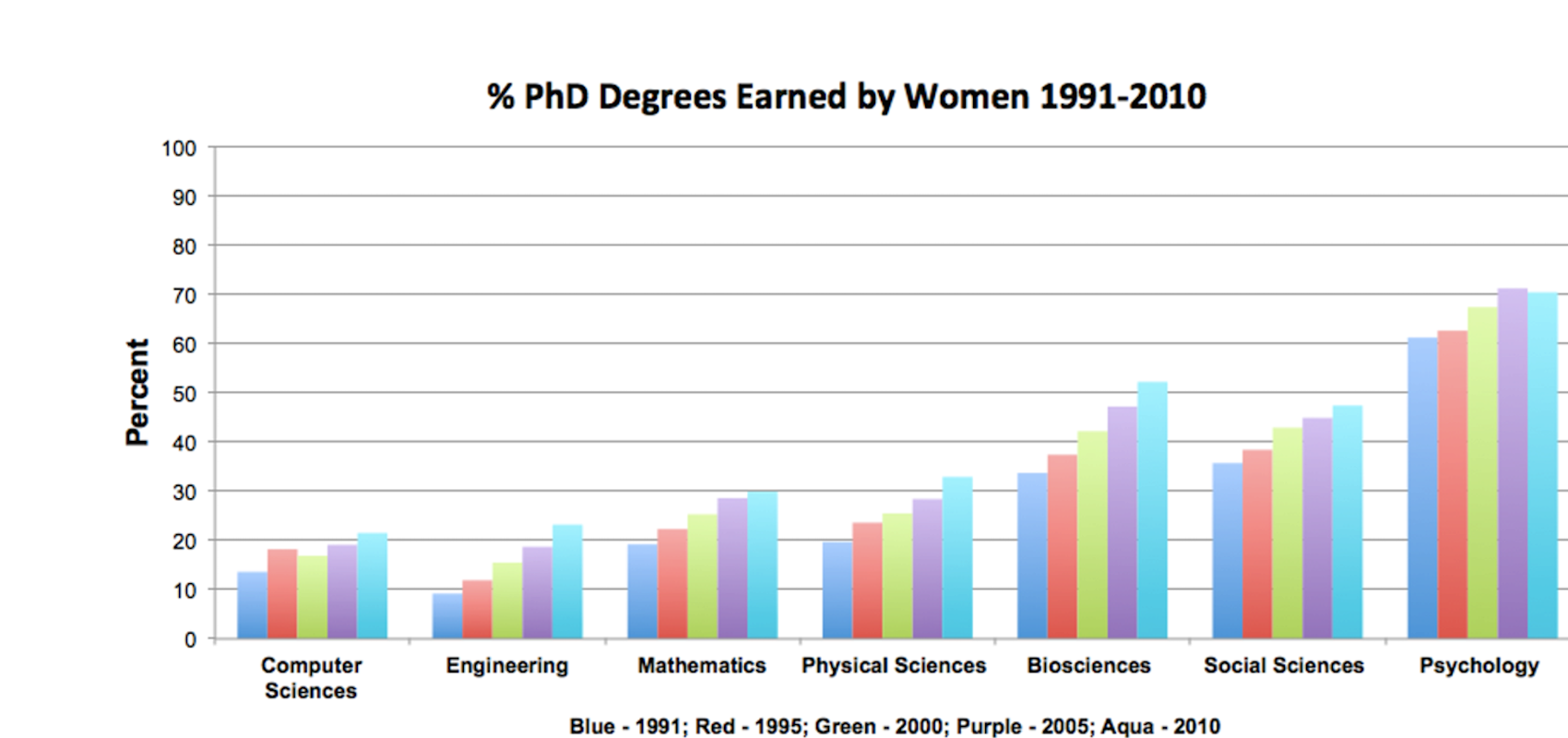 As I started my research for this blog post, I was pleasantly surprised to find women scientist representation growing in almost all aspects of STEM. And at the same time, disheartened to find my major, computer sciences, is stagnate in growth for women over the past two decades.
What's different in the computer science & engineering aspects of STEM that seem to hold women back? There are many conflicting reports on how our environment and upbringing are sublimely programming women away from engineering and mathematics. We were told from an early age, math and science are for boys.
My mother was a pioneer and a strong female leader. She holds a PHD in Biochemistry, served as President for Academic Affairs and Provost at Salem International University. She demanded her daughters rise to any challenge and deliver to the best of our abilities. Never once did I doubt I had amazing talents and just needed to get busy using them. So, is it nature or nurture that helped me stay with STEM? Maybe a little of both.
I saw an article recently in the WSJ on Salesforce.com, where CEO Mark Benioff, is focused on ensuring women are represented fairly at every level in his company. Taking proactive steps like SFDC.com, to open doors for women, rings truer to me then the "poor little girl" theories on how to increase female participation in computer science and engineering.
The cloud-computing giant is two years into a companywide "women's surge" in which managers must consider women when filling open positions at every level. They are also examining salaries for every role in the company to ensure women and men are paid equally. And finally, ensuring that women make up at least 30% of attendees at management summits or onstage roles at keynote presentations.
With some nurturing at home during early years of development and progress in the corporate landscape leveling the playing field, I believe we are finally set to see an upward trajectory for the last two laggard categories in STEM.
Future women engineers can see a world where their hard work and discipline will pay off, a road-map to success if you will. We no longer need to break through the old stereotypes, running faster and jumping higher to be considered half as good as our male counterparts. Instead, there will be fair and equal opportunity for career advancement for women engineers and computer scientists.
I would submit some of the best technology leaders today are women. My personal experience afforded me the opportunity to work with several top female technology executives. One of the best leaders I worked for is a power house that broke all the stereotypes, and worked circles around her male counterparts. As I look back and try to understand what propelled these successful women, they all possess some classic traits that are needed in any leadership role.
Collaboration. Women are skilled collaborators, able to work with all different people. This is an important quality for any professionals, as cross-departmental collaboration is key. Technology impacts every function in modern business, and those most successful will be able to collaborate with all different teams and individuals.
Communication. For many of the same reasons, technologist must also be strong communicators. Communication is an area where many women traditionally excel and it's an important quality to have. For example, communicating with the sales department may be different from communicating with the IT department. Good technology leaders will be able to speak to everyone.
Perspective. Being able to inspire a team and see the big picture are both equally important. A technology leader must be able to not only collect and analyze data but draw meaningful insights and understand what it means for the company. The ability to holistically view a situation is a competitive differentiation for organizations as well as a positive attribute that many women possess.
In the past, women had to fight a little harder to push through the barriers that have prevented women from entering STEM, but the tide is turning. In today's new business paradigm, with a strong technology sector jobs forecast, it's a perfect time for young women to enter computer science and engineering field.
And to help drive this point home, President Donald Trump signed two laws that authorize NASA and the National Science Foundation to encourage women and girls to get into STEM fields. The Inspire Act directs NASA to promote STEM fields to women and girls, and encourage women to pursue careers in aerospace. The law gives NASA three months to present two congressional committees with its plans for getting staff -- think astronauts, scientists and engineers -- in front of girls studying STEM in elementary and secondary schools. The full name of the law is the Inspiring the Next Space Pioneers, Innovators, Researchers, and Explorers Women Act. The second law is the Promoting Women in Entrepreneurship Act. It authorizes the National Science Foundation to support entrepreneurial programs aimed at women.
The stage has been set – go forth future astronauts, scientist, coder girls! Let's rock the world.